here
). The four boxes we still need to go through remain where we left them. A few things have come up, and to say we have been a little sidetracked is an understatement! (Do not fear - those four boxes are on our list to tackle this week!).
Instead, I painted the master bedroom (and potty trained a two-year old). I know! Why start a huge project(s) when you haven't finished the last huge project? Well - this past weekend we had an opportunity to visit my parents and pick up the matching dresser to our (borrowed) bedroom set. (I say borrowed because this is a temporary solution to our lack of bedroom furniture and storage. My brother will eventually use this furniture in his house.) Before we picked up the dresser, I really wanted to repaint the walls. A few months ago my husband mentioned he hated the blue paint and would love to change the colors. I thought it would make life so much easier to repaint before we brought the new dresser home. And there begins a new major project.
Here are a few before and after pictures (please forgive the horrible photography - I am taking classes to get better!)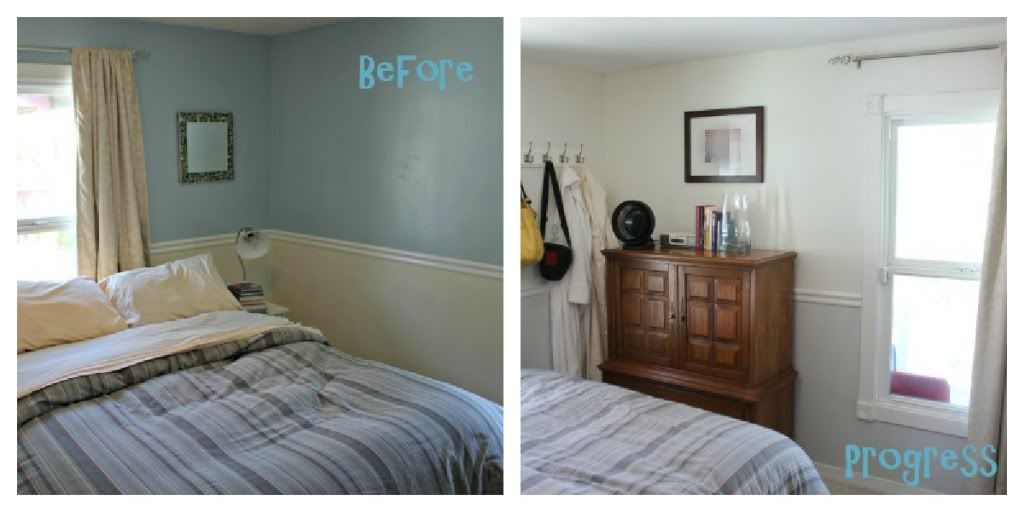 View from the door. We moved the taller dresser and changed the direction of the bed.
Imagine a DIY headboard in a khaki color (maybe) with a DIY circular drift wood mirror above the headboard. Just imagine! Really...the vision is there.
View from the bed to the bedroom door. Ignore the blue lamp. It's a DIY project that is not yet completed. I still need to rewire the lamp (which will straighten the shade). Imagine a wall gallery with dark gray frames above the dresser.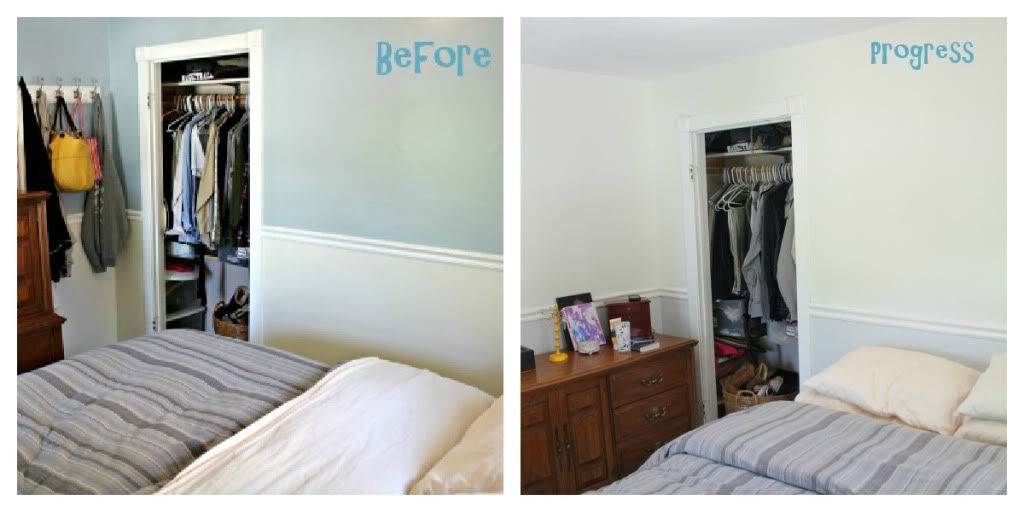 The plan is to wall paper the inside of the closet (it's currently pink) and revamp the storage that is already there. We are going to also add a curtain over the door when we redo the window curtains.
So progress...I love it so far! The new colors are softer and more welcoming. Moving the bed actually added space. And I cannot tell you how nice it is to have nine (yes, nine!) extra drawers!
Here is what is left on our master bedroom list:
Master Bedroom Re-Do
Change the paint color.
Wallpaper the closet.
Add a tension rod and curtain over the closet.
Find a cute tie-back for the closet curtain and window curtains.
Change window curtains (dark blue or gray).
Move tall dresser.
Get the matching dresser from my parents.
Move coat hooks. Create a "coat" space for us + guests.
DIY headboard for our bed.
Build two shoe boxes for under the bed.
Find a bed skirt (debating on the color).
Update bed sheets and duvet cover.
Rearrange pictures.
Decorative pillows for bed.
Make one of the pillows from bird fabric (have).
Jewelry stand/photos wall over dresser.
DIY drift wood mirror.
Have you ever started a project only to get sidetracked by another? I would love to hear your story.




We have taken a break from the basement project we started (you can read about that